Larapinta Culture
Join us on our journey and experience the beauty and wonder of Larapinta country and culture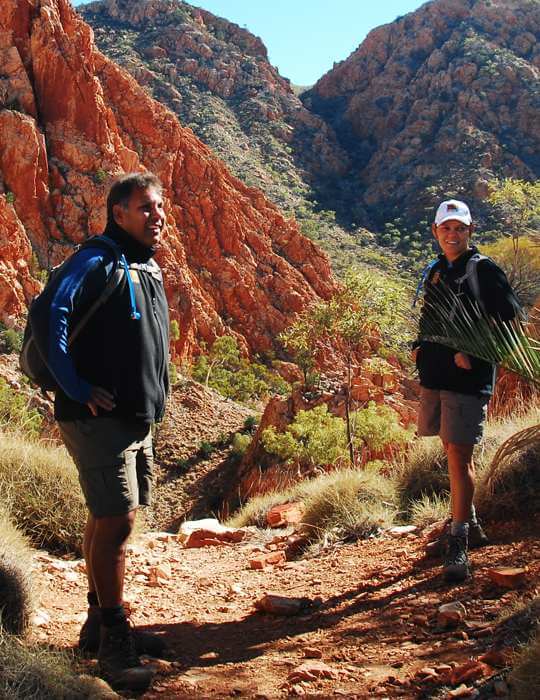 WELCOME TO COUNTRY
Hello and welcome
Thank you for joining us on a cultural journey as we explore parts of the spectacular Larapinta Trail.
We've worked hard over the years to ensure that people joining our expeditions enjoy a truly unique experience.
To make sure you get the most out of your time on the Larapinta, we thought it would be a good idea to explain a few things before we set out:
Our culture is based around walking to care for country. We don't follow a set itinerary. Rather, we shape our trips based on the weather and our participants' fitness and interests. This flexible approach ensures the suitability of our treks. We've also found it heightens your experience through the element of surprise. Consequently, we'll brief you each morning on the events planned for that day.
The campsites we use are on traditional Aboriginal lands that are used by our families and have a spiritual meaning for us. We would ask that you care for the land as we do. In the evenings, in particular, we'd ask that you observe our cultural traditions that require us to respect past inhabitants by avoiding loud noise and music.
We take our duty of care to you very seriously. The country we travel through can be dangerous for the inexperienced and our guides are there to ensure your safety. We would ask that you follow their directions at all times while making sure you stay with your designated group.
This concern for your safety extends to when we are in camp. At each campsite we'll have an area restricted to staff only, mainly for the purposes of cooking. We would ask that you not come into this area.
As well as ensuring your safety, we hope these notes will deepen your experience with us and assist you to relax, knowing that we're there to help you make the most of your visit to country.
With best regards, 
Colleen Purrulla Powell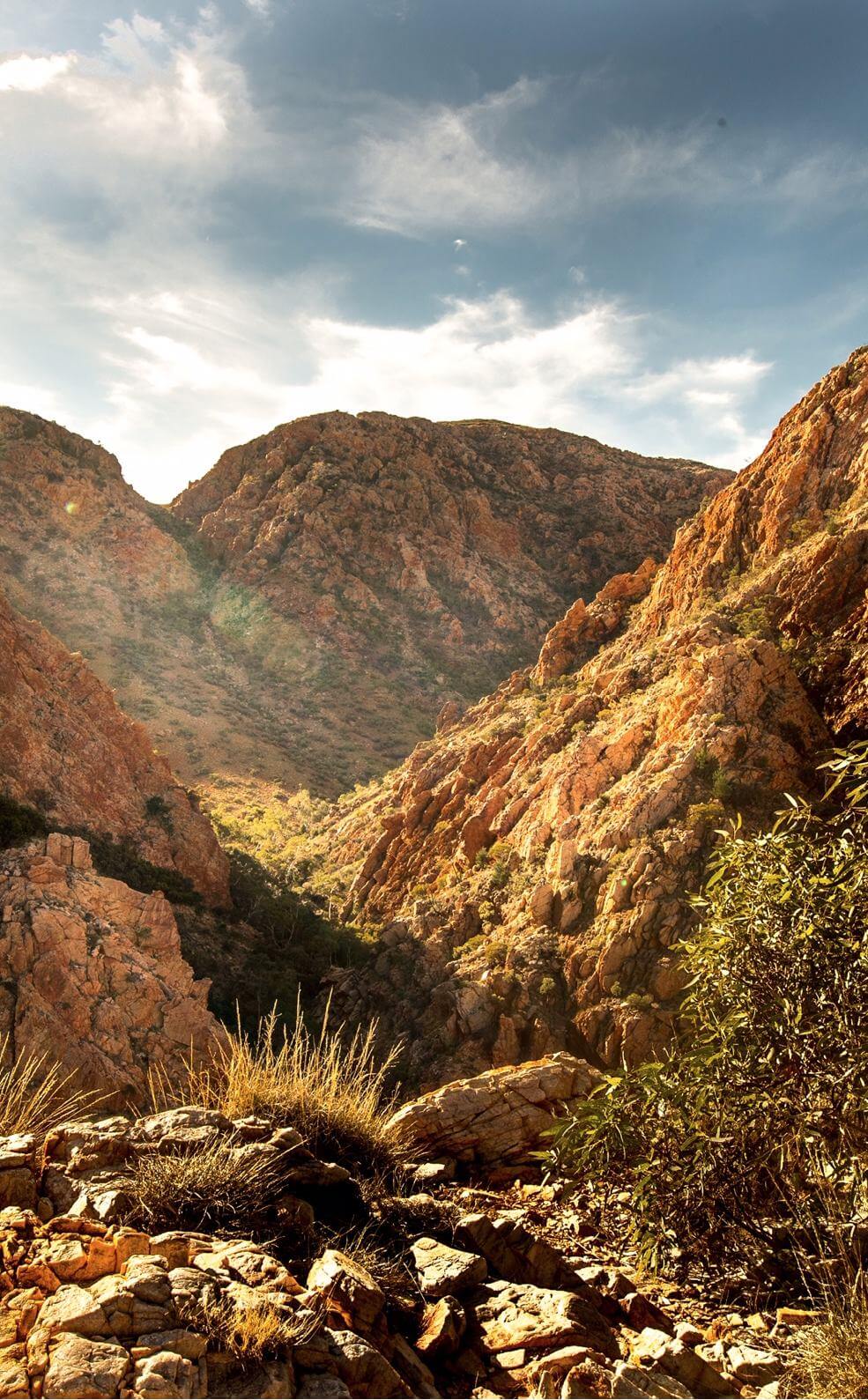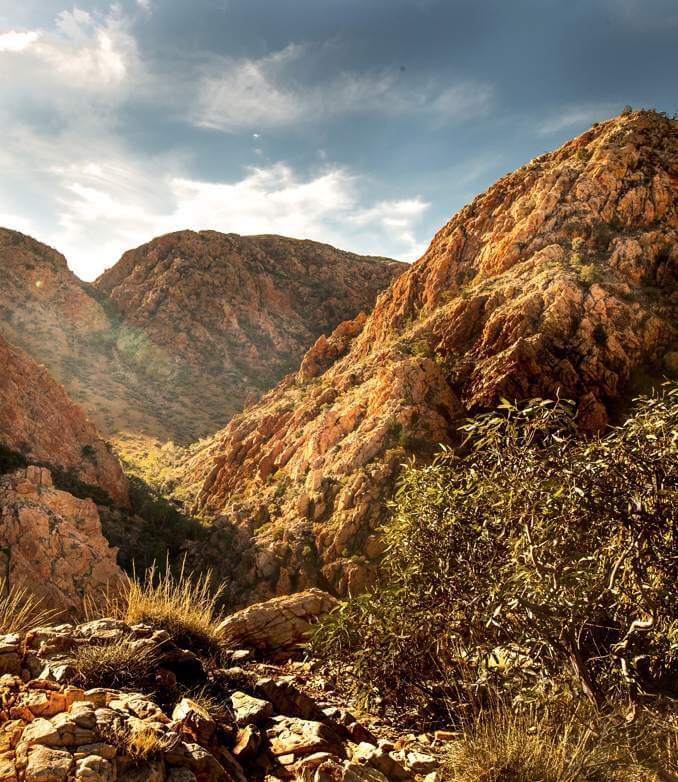 ABOUT OUR PEOPLE
Experience is everything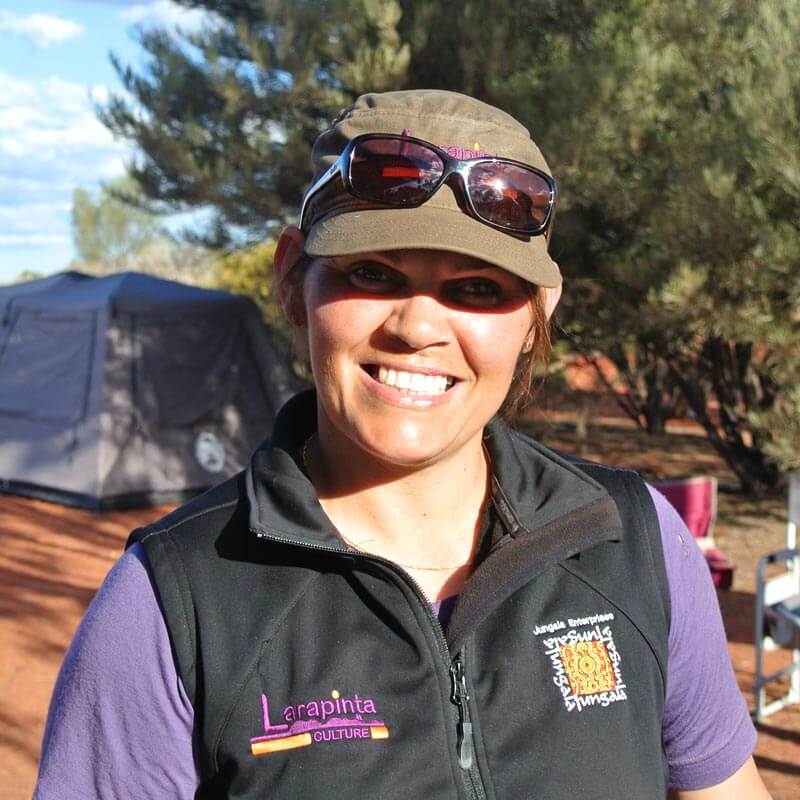 Colleen Purrulla Powell
Colleen was born in the old Darwin Hospital in Australia's Northern Territory. On her mother's side she has strong connections with the Jingili and Arrentre tribes. On her father's side she is linked to the Warlpiri tribe.
Colleen has experience in both the education and tourism sector having worked at Yipirinya School in Alice Springs for 15 years as the front office manager and in the tourism industry for 10 years.
Colleen's deep understanding of her people's cultural protocols gained through living and working with Aboriginal people – together with her background in front office management – means she has a strong sense of identity and commitment to upholding her culture while also being able to deliver a professional product with confidence.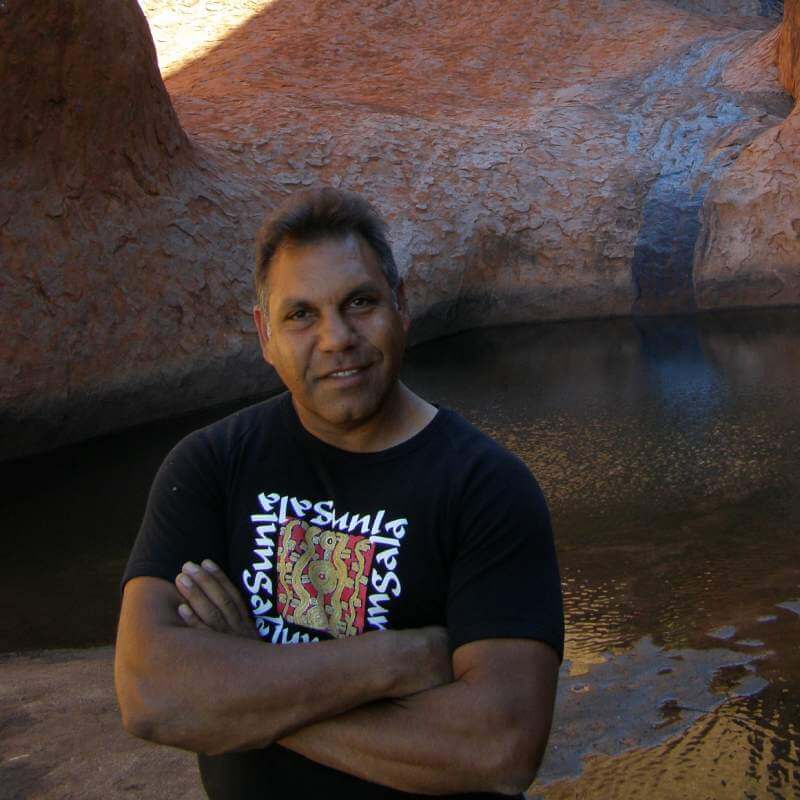 Jungala Kriss
Jungala was born in the bush with traditional midwives attending at his birth on Narwietooma Station in the Northern Territory, Australia. Throughout his early years, Jungala lived a traditional lifestyle, eating traditional foods, living in a humpy and following in the footsteps of his ancestors before him. As he got older, Jungala attended school in Melbourne before going on to travel extensively overseas.
Jungala has spent his adult years working in the tourism industry, presenting art and cultural workshops. Part of this time was spent in Europe where he learnt about the wide variety of people's backgrounds and came to understand why many were interested in coming to Central Australia.
In 2007, Jungala was involved in business testimonials with the Northern Territory's Department of Business, Economic and Regional Development featured on Channel 9's television program, Getaway, and WIN Television's Postcards Australia.